Sen. Bernie Sanders, I-Vt., has won the Colorado Democratic presidential primary, Fox News projects, giving the self-described democratic socialist a boost after Vice President Joe Biden notched wins in the Virginia, North Carolina, Oklahoma and Alabama primaries.
Earlier in the night, Sanders, I-Vt., handily won his home state of Vermont, Fox News projects. Biden's southern-state victories are more valuable in the delegate race, with Virginia worth 99 pledged delegates, North Carolina worth 110, and Alabama worth 52. Oklahoma is worth 37. Vermont is worth just 16 delegates, and Colorado is worth 67.
FOLLOW LIVE: SUPER TUESDAY RESULTS
Results from the other states voting on "Super Tuesday" are expected in a matter of hours, as a divided Democratic electorate seeks a front-runner among an ever-winnowing field of candidates.
Polls have closed in Massachusetts, where Sen. Elizabeth Warren is fighting for 91 delegates in her home state.
That race remains too close to call, along with the contests in Maine, Oklahoma, Minnesota, Arkansas, and Texas where polls have also closed.
Among the night's biggest and most closely contested races are those still in California and Texas, where 415 and 228 pledged delegates will be awarded, respectively. Sanders has polled strongly in California, and seeks to deny Biden any share of the state's large delegate prize.
Biden has aggressively courted Texans, even hosting a rally in Dallas on Monday night featuring a surprise appearance by former Texas Rep. Beto O'Rourke. Along with ex-presidential candidates Amy Klobuchar and Pete Buttigieg, O'Rourke has recently endorsed Biden following his blowout win in Saturday's South Carolina primary.
In every state voting on Tuesday, candidates who fail to receive 15 percent of the vote either statewide or in a congressional district leave empty-handed. Candidates who clear the 15 percent threshold receive a proportional share of delegates.
"My name is Elizabeth Warren and I'm the woman who's going to beat Donald Trump," Warren assured supporters Tuesday.
A total of 14 states were voting Tuesday. California, the night's biggest prize by delegate count, will close voting at 11 p.m. ET.
To win the nomination, candidates must receive 1,991 of the total 3,979 pledged delegates at the Democratic National Convention (DNC) this summer in Milwaukee, Wis. If no candidate receives a majority on the first ballot, hundreds of so-called "superdelegates," or party insiders, are allowed to cast their ballots.
Roughly one-third of the 3,979 total delegates were at stake on Tuesday.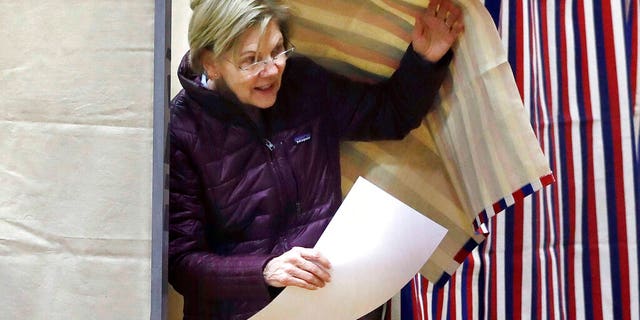 The early results were a disappointment for former New York City Mayor Mike Bloomberg, who spent half a billion dollars on his campaign and sought to present himself as the only truly electable candidate in the race. Bloomberg was on the primary ballot for the first time on Tuesday.
However, there was at least one bright spot for the high-spending billionaire as the votes rolled in. Bloomberg picked up five delegates American Samoa, according to an Associated Press projection. Hawaii Democratic Rep. Tulsi Gabbard was slated to win one delegate there.
Addressing supporters in Florida Tuesday night, Bloomberg acknowledged he may be in for a rough night.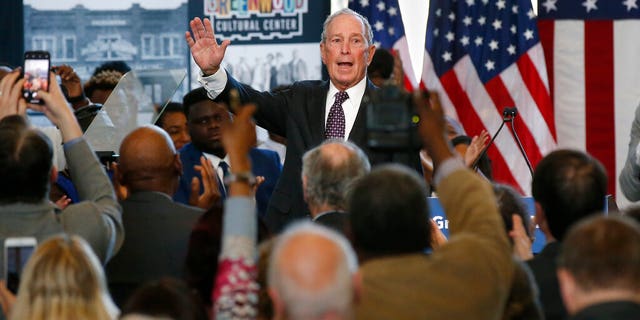 "Unlike the president, I didn't come here to golf or to reveal classified information to Mar-a-lago members," Bloomberg said. "I came here because winning here in November starts with Florida, and if I'm the nominee let me make you this promise: We will beat Donald Trump in Florida and swing states across the country."
Bloomberg added: "No matter how many delegates we win tonight, we have done something no-one thought was possible. In three months we've gone from one percent in the polls to being a contender for the Democratic nomination for president."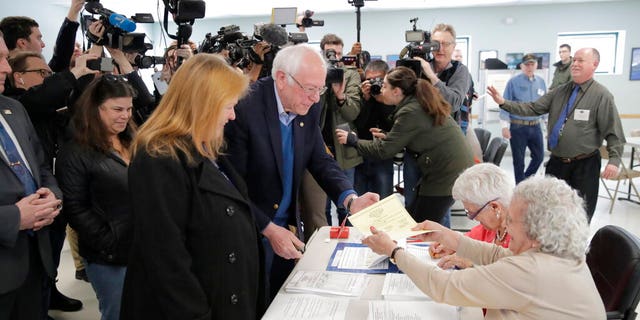 Previously, Bloomberg has strongly hinted that he's not going anywhere regardless of what happens on Tuesday. At a Fox News Town Hall on Monday, Bloomberg suggested he might take his bid to the Democratic National Convention, where he said "horse-trading" could decide the nominee.
Bloomberg separately assured supporters at a rally: "I'm in it to win it, and we are going to go out and we're going to go get 'em."
Warren has similarly vowed to take her campaign all the way to the convention in a "final play" and is seeking to at least hold her home state.
Utah polls will close at 10 p.m. ET.
Klobuchar had been forecast to win Minnesota, and her exit from the race could actually help Sanders score additional delegates. The state is worth 75 pledged delegates.